This old banana vendor sleeps at the sidewalk made a lot of netizens cry in tears!
When we are younger, our parents used to protect us from harm always. They didn't want us to be uncomfortable, they didn't want us to be sick or to be tired, but instead, they just wanted us to live comfortably even if it means that they will have sleepless nights and tiring days at work. Parents' love for their children is really unconditional, the moment our mothers knew that we are inside her body until to that moment when our father finally saw us and held us in his arms, those memories will forever be magical and will forever be cherished by our beloved parents. Many of us promised ourselves that when our parents get old and they will be needing us, we will be there no matter what.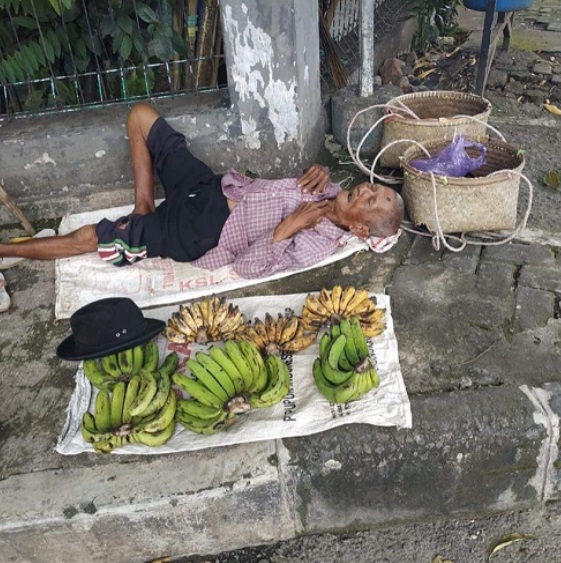 Unfortunately, there were actually some heartbreaking scenarios where old parents tend to live all by themselves after taking good care of their children. Just like this old man whose photos immediately went viral online after a netizen named Jeff Garcia shared some of his photos on social media. The poor old man who sells bananas can be seen sleeping at the sidewalk out of exhaustion and he can do nothing but to lie down with a sack on his back.
"Nakakahiya naman dun sa iba na puro reklamo na lang. Ginawa pang rason ang kahirapan para gumawa ng mga iligal na gawain. Samantalang si tatay kahit mahina na ang katawan, nagsusumikap pa rin para mabuhay, huwag lang mamalimos. God bless you tatay."Garcia captioned his post.
A lot of netizens were moved and some were crying in tears as they couldn't imagine why this old man who supposed to be enjoying his retirement and the last days of his life living comfortably at home will be experiencing this plight and was actually selling bananas just to earn a living. Here are some of the netizens' comments and reactions on the viral photo: "Dapat kapag nakita si tatay, bumili na lang tutal pagkain naman ang kanyang tinda masustansya sa katawan."
"Kapag nakakita kayo ng ganitong nagtitinda, wag nyo na tawaran o baratin pa. Nakakabili kayo ng mga mamahalin. Gipit na nga, gigipitin nyo pa. God Bless sayo tatay."
"Ito yung dapat bigyan din ng tulong hindi yung mga taong namamalimos na malakas at mga brusko pa ang katawan."